LCS Development

Life Care Services
Bridging the Gap: Engaging Seniors Through Cross-Generational Connections
Jun 28, 2023
Intergenerational relationships promote empathy and provide meaningful social interaction for residents. Learn why it is important to bridge the generational divide and how your community can help.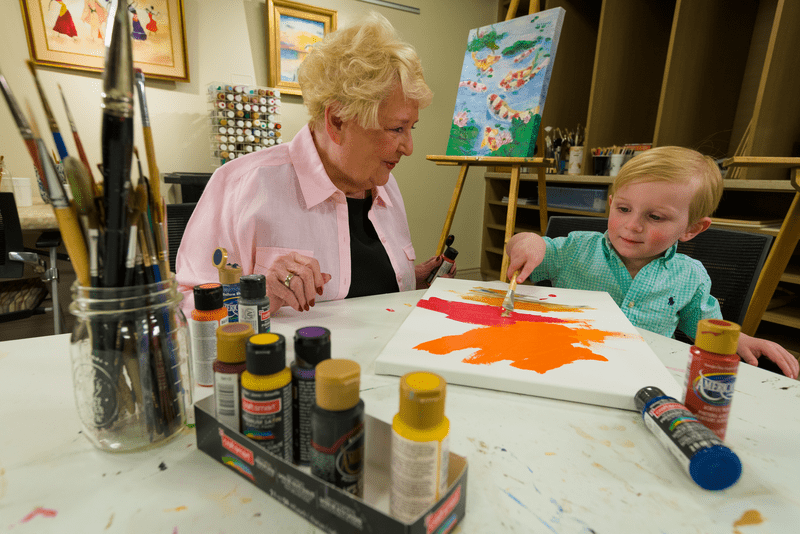 Intergenerational relationships are an effective way to enrich lives, build empathy, facilitate growth, and bust the harmful stigma around ageing. Senior living communities offer an ideal setting for cross-generational relationships to form by creating a space for residents and people of all ages to thrive, especially when the community is adjacent to a college campus. In this article, learn how intergenerational connections can improve the lives of residents, promote physical and mental health benefits, and how your community can help close the generational divide.
How Intergenerational Relationships Benefit Seniors
The University of Michigan's 2023 Poll on Healthy Aging found that one in three older adults feel isolated from others, experience a lack companionship, or have limited contact with people outside their homes. Seniors who experience these measures of loneliness are more likely to report poor physical and mental health, especially when they are unemployed or have a disability.
Addressing loneliness is integral to the holistic wellbeing of older adults. Intergenerational connections can prevent social isolation by offering friendship, a link to the local community, and opportunities for personal growth.
Combatting Loneliness
Cross-generational relationships allow residents to break out of their social "bubble" and connect with individuals outside their immediate friends and family. The introduction of different age groups into a community can shake up social dynamics and give residents the opportunity to hear new perspectives. Age-diverse visitors can also provide a sounding board for seniors to voice their feelings or frustrations, separate from their everyday social circles.
Connecting Residents to the Local Community
A 2022 study from the Chinese Academy of Sciences revealed that seniors who frequently participate in local activities experience higher life satisfaction and fewer depressive symptoms compared to those with infrequent community engagement. Active involvement in the local community provides seniors with a change of environment and opportunities to meet new people. Members of different generations can support seniors in connecting with their neighborhood through various means, such as:
Helping seniors stay up to date about local happenings and stay connected to the areas where they used to live and work.
If a resident is living in a new or unfamiliar location, providing a touchpoint for the resident to learn about the area.
Helping seniors get out of their residences and into the local community for outings.
Building Empathy
Interactions with different age groups can help seniors understand and empathize with generations that are often perceived as ideologically different. On the flip side, intergenerational friendships can help demystify the aging process and debunk ageist stereotypes. Ageism is a type of discrimination experienced by 93% of older adults and – like loneliness – is linked to poor physical and mental health. Promoting age diversity in your community humanizes older adults and pushes back against harmful ageist beliefs.
4 Ways to Promote Cross-Generational Connections in Your Senior Living Community
Intergenerational relationship-building can be a fruitful avenue for programming in your community. Here are four ways your community can promote cross-generational connections.
Start a Mentorship Program
Mentorship programs benefit both older adults and their mentees by putting the often-untapped experiences of seniors to use. Seniors benefit from the social interaction and fresh perspective offered by the mentee, and their younger counterpart gains a trusted confidant.
Senior mentorship programs generally consist of one-to-one pairings of older adults and younger individuals based on shared interests or experiences. The pairings meet frequently for conversation or to engage in coordinated activities. Nationally, AmeriCorps Seniors' Foster Grandparent Program pairs seniors with at-risk youth in their area. Mentorship programs can be implemented on a smaller scale at individual senior living communities, in partnership with local schools or volunteer organizations.
Highlight the Talent of Other Generations
Chances are, talented artists in your area are looking for a place to perform and your community has an enthusiastic audience. Hosting performance groups provides engaging programming for your residents and an opportunity for people of all ages to come together in a shared passion for the arts.
Performing arts events are also advantageous from a memory care perspective, allowing artists from different generations to impact residents with memory loss by performing music from their formative years. A Northwestern Medicine study found that live performances of nostalgic music improved social engagement and reduced agitation and anxiety among residents with dementia or Alzheimer's. This therapy is particularly effective because music memories are among the last to disappear in individuals with memory impairment.
The use of music in memory care supports the LCS Heartfelt Connections memory care program by using reminiscence to improve the quality of life of seniors with Alzheimer's or dementia. Learn more about the Heartfelt Connections signature experience here.
Host Joint Community Service Projects
By partnering with local organizations, communities can host volunteer events that unite people of all generations under a service-driven purpose. At a number of Life Care Services communities, service work has helped enrich the lives of residents:
Partner with Local Schools or Colleges
Perhaps the easiest way to connect residents to age-diverse people in the area is through partnerships with local schools. Younger students may enjoy activities like reading or crafts with residents, while older students could help residents with technological needs, or simply lend a listening ear.
At the college level, it is common for schools to partner with senior living communities to offer a volunteer base and a way for students pursuing careers in healthcare or senior living to get involved. Colleges and universities have also begun opening their doors to seniors who are interested in taking classes or getting involved in extracurriculars. In recent years, senior living communities are even being built in collaboration with colleges or universities for a completely immersive educational experience.
LCS Communities are Closing the Divide
Subscribe to LCS Insights
Thank you for filling out our form. You may now download articles.