Dining Innovation Starts at Development
Mar 10, 2021
Attention to dining flow helps control costs As an innovator in senior living development, LCS Development continually uncovers innovative food and dining trends. One challenge we closely monitor is compression dining, a common bottlenecking issue that occurs when 50-70% of residents dine in the main dining room within a 30- to 45-minute timeframe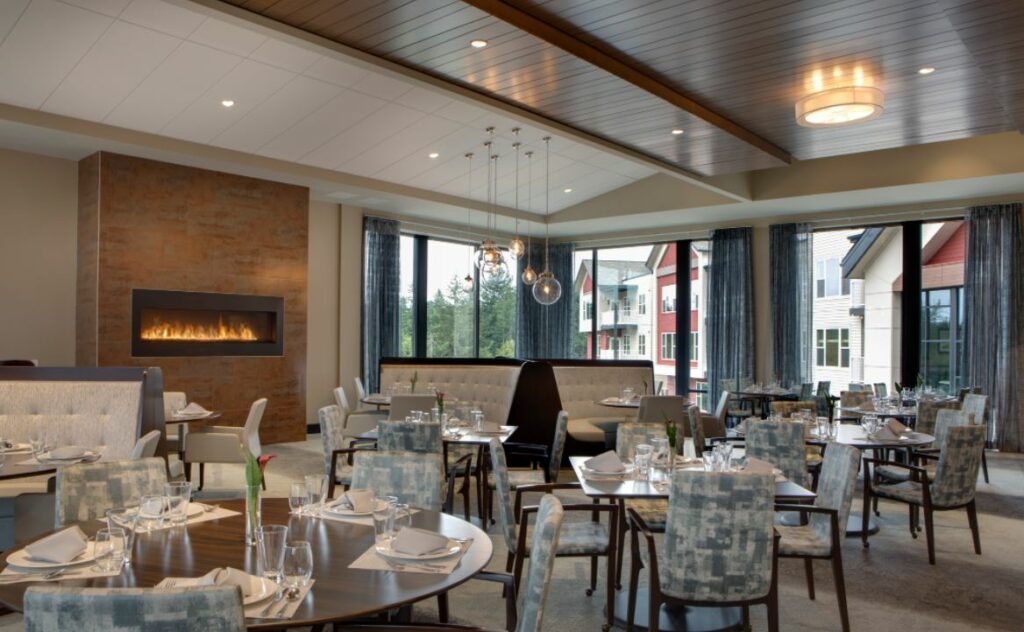 Attention to dining flow helps control costs
As an innovator in senior living development, LCS Development continually uncovers innovative food and dining trends. One challenge we closely monitor is compression dining, a common bottlenecking issue that occurs when 50-70% of residents dine in the main dining room within a 30- to 45-minute timeframe. As your community considers opening dining areas that have been closed during the pandemic, now is the time to evaluate options that improve operations.
Overcrowding puts pressure on food quality and service costs, contributing to resident dissatisfaction and increasingly unnecessary staffing costs. Communities dealing with compression dining typically have 15% higher food costs from waste (as much as $120,000 to $300,000 annually) and 33% higher service costs.
A common misconception for some senior living developers is to creating larger dining rooms will ease overcrowding. Yet, this strategy only accelerates other problems associated with compression dining, such as poor food quality, increased costs and low resident satisfaction.
Instead, creating alternative dining venues are an attractive option to reduce pressure during peak dining times. And these facilities can be planned for during the development or repositioning of any senior living community.
Adding venues like cafés or pubs reduce crowding and give residents more choices. It's all about "location, location, location" with alternative dining venues. Being near the kitchen leverages access to existing dry goods, refrigeration and staff. There's a decrease in the number of footsteps and an increase in delivery service speed. Leveraging these efficiencies will aid in reducing expansion costs.
Communities not ready to invest in developing a new dining location can reap some of the same benefits by creating an inviting lounge area adjacent to the main dining room. Meal takeout programs are also a vital and complementary strategy to improve operations in the main dining room.
It's been proven that alternative dining areas help avoid compression dining during high traffic hours. Yet, as with any change, success depends on clear communication with residents. Every new plan should include a detailed description of how the new system will work and a clear timeline for when the new system will be introduced.
When making significant changes to a senior living community, it's essential to work with a company that understands and designs with residents in mind. As a leader in senior living development, LCS Development, An LCS Company, has been solely dedicated to the design and development of senior living communities since 1971.
---
LCS Development, An LCS Company, works in partnership with Life Care Services, An LCS Company, to develop and manage senior living communities across the nation. Projects led by LCS Development helped Life Care Service rank highest in customer satisfaction with independent senior living communities for two years in a row in the J.D. Power, 2020 U.S. Senior Living Study — achieving the highest score in all six factors: resident activities, community staff, price paid for services received, resident apartment/living unit, community building and grounds and dining.
Subscribe to LCS Insights
Thank you for filling out our form. You may now download articles.