LCS Adds Flex Space Design Planning to Signature Experience EverSafe 360° Program
Mar 31, 2022
Innovative program provides unique approach to enhanced safety in senior living communities while preserving positive experiences for residents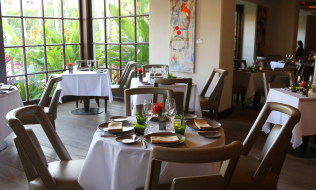 The latest offering from EverSafe 360°, an LCS Signature Experience, provides a myriad of recommendations to assist senior living communities in adapting to evolving environments without compromising resident experiences. Flex Space Design can help communities reimagine security, wayfinding, dining, infection prevention, as well as resident and staff experiences, among others.
"In times of uncertainty, flexibility is one of the greatest amenities we can leverage to protect our communities," said Rick Exline, executive vice president/senior managing director. "Flex Space Design is a valuable addition to our EverSafe 360° signature program because it gives communities a plan to adjust vital features that will enhance the health, safety, security, and social wellness in their community."
The Flex Space Design program includes multiple new levels of engagement based on the needs and capabilities of community ownership and staff. Consistent with other EverSafe 360° initiatives, Flex Space takes a comprehensive approach to prioritize health and safety while preserving the experience for residents and staff within the community.
"Implementing new flex space design planning has allowed LCS to continue its goal of elevating senior living," said Exline. "The level of flexibility this program provides has enabled our staff to maintain our high safety standards while giving our residents the quality care they have come to know. We're committed to providing safe and enriching living environments for our vulnerable resident populations."
EverSafe 360° programs are guided by the LCS medical advisory board to focus on understanding infectious diseases, mental health, geriatrics, and epidemiology. The team provides LCS-managed communities with cutting edge solutions to enhance resident safety and wellness.
For more information about EverSafe 360°, click here.
Subscribe to LCS Insights
Thank you for filling out our form. You may now download articles.