LCS

Life Care Services

Senior Living
LCS awards 2022 Chef of the Year title to Clarendale of Algonquin executive chef
Aug 3, 2022
Clarendale of Algonquin executive chef, Mike Prager, has received the coveted Life Care Services "Chef of The Year 2022" title after battling through a three-round, "chopped-style" cook-off July 21 at the Sysco Test Kitchens in Houston, Texas.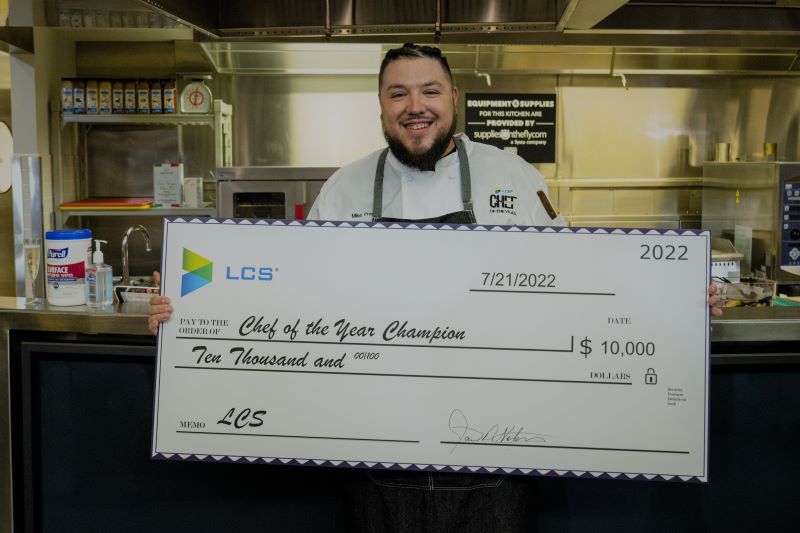 As one of the five finalists, Prager came out on top with a winning dish of Mardi Gras mustard crusted bass, five spice lentil risotto, squash and pear hash, lemongrass beurre blanc, thai basil oil and black garlic toasted almonds.
Prager was encouraged by his coworkers to enter the competition because of his ability to consistently create delicious and healthy meals for community residents.
"It was an honor to be given the opportunity to compete and showcase my culinary talents with some of the best chefs LCS has to offer," said Prager. "It was such an amazing experience, and a very well organized and planned event. The support from LCS, their partners, and our amazing residents and staff here at Clarendale contributed tremendously to my performance at the competition. None of this would have been possible without them."
The annual competition celebrates the hospitality and culinary talents of chefs located in senior living communities owned and managed by Life Care Services, an LCS Company. The event was live streamed for all LCS employees and Clarendale of Algonquin also hosted a live watch of the event for residents and staff to support Prager in the competition.
Chef Prager has been with Clarendale of Algonquin for two years. He graduated from the culinary program at Elgin Community College and worked in hotels and restaurants for the better part of a decade. He has also won culinary competitions at Fisher Nuts and the Grand Victoria Casino. He has an 11-year-old son who loves cooking his favorite dish, duck confit.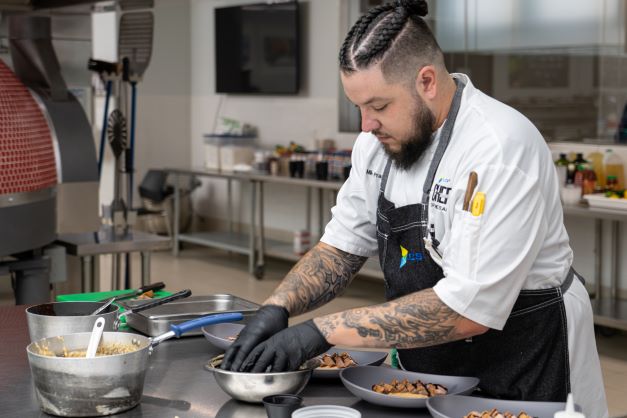 "Mike has been a go-getter since walking in our front door," said Peter Franken, Clarendale of Algonquin executive director. "Hired as a line cook, he quickly excelled in both culinary talent and time-management and was promptly promoted to sous chef. Shortly after, we found ourselves without a head chef due to illness. Once again Mike stepped up and excelled in managing the entire kitchen staff and creating exciting menus and delicious meals for our residents. When the moment arose to find a new Director of Culinary Services it was a no-brainer, Mike was given the reins and was off running."

About Life Care Services®
Life Care Services, An LCS Company, has the experience required to boost community financial performance, increase occupancy, and develop new lifestyle and health initiatives to meet consumer expectations and help communities thrive. With a long track record of excellence, Life Care Services sets itself apart from other senior living companies with its unique, comprehensive portfolio of support services. Life Care Services is the nation's second largest operator of senior living communities and has expertise in the management of both Life Plan and Rental communities. From independent living to assisted living, skilled nursing to memory care, at Life Care Services, Experience Is Everything. For more information, visit lifecareservicesLCS.com.
Subscribe to LCS Insights
Thank you for filling out our form. You may now download articles.