LCS innovation receives two awards during the McKnight's Excellence in Technology awards event
Oct 5, 2022
The awards honor providers that show how technology has improved care and operations in their organizations.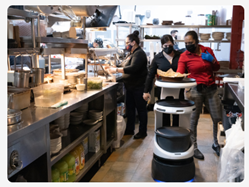 LCS®, the nation's third largest senior living provider, earned a Bronze Innovator of the Year award in the Senior Living category for its work to introduce robotic automation into its senior living communities. The award was given during the McKnight's Excellence in Technology Awards + Summit event on Oct. 4. The event honors providers that show how technology has improved care and operations in their organizations.
The Innovator of the Year nomination described the LCS introduction of Whiz, a commercial robot vacuum that works alongside its housekeeping staff in 24 communities. Whiz tackles simple, monotonous tasks while staff prioritizes high-level disinfection and more detailed work. LCS also added Servi robots to nine communities, re-engineering frontline culinary department positions for servers and bussers. The robots work as food runners, freeing up employees to take on more tables and spend more time offering better service to residents. Servi robots have kept restaurants open in communities and improved employee satisfaction.
In the Skilled Nursing category, Trillium Woods, a Life Care Services community, received a Silver Building Bridges award for its implementation of Vocera, a hands-free system that connects Trillium employees and teams to information they need for resident care with simple voice commands. Within months of implementation, the application significantly increased staff satisfaction related to workflow efficiency and communication.
"We are more focused than ever on fostering an innovative culture and leveraging technology to improve the health and well-being of our residents and employees," said Frank Vedder, LCS SVP/Chief Information Officer. "We are very proud of the efforts across the company that have led to improved resident satisfaction, more efficient operations, and making LCS an even more attractive employer for our incredible team members. We couldn't have done this without a fantastic set of technology partners that support this industry."
For LCS, the success of robotic automation has led to new automation opportunities in areas like floor scrubbing, in home vacuuming for residents, mowers for lawn care, smart thermostats, back of house food and beverage operations, among others.
"We are honored to be recognized by McKnight's for our IT team's incredible work. As a leader in the senior living industry, we are driven to support a bigger mission. These winning projects demonstrate our commitment to leveraging technology as we deliver on that mission," said Vedder.
Subscribe to LCS Insights
Thank you for filling out our form. You may now download articles.