Top Trends in Senior Living Dining: What Providers Need to Know
May 2, 2023
Explore the top trends in senior living dining and discovers how to implement trends to improve resident satisfaction.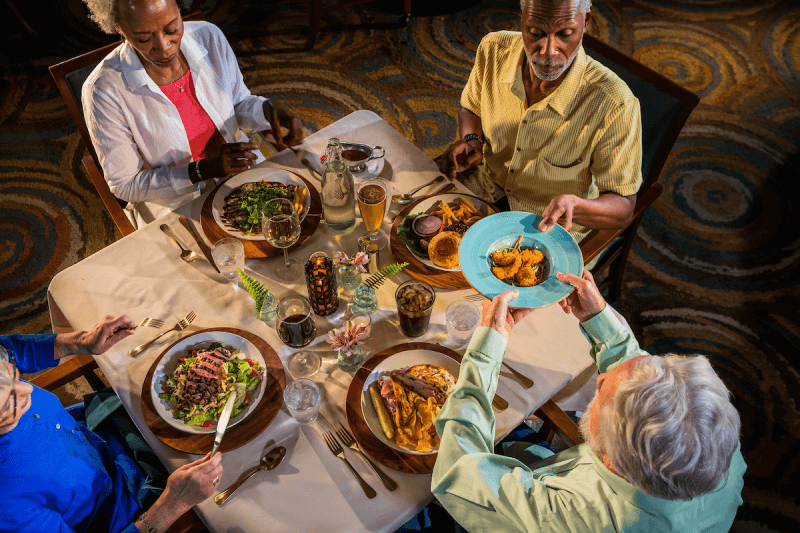 As the senior living industry evolves, the dining experience plays an increasingly important factor in resident satisfaction and overall quality of life. Residents want locally sourced ingredients with as many fresh options as possible in addition to catering to their personal preferences and dietary needs.
To meet these demands, senior living providers must stay current with the latest dining trends and offer innovative programs that enhance the dining experience for residents. In this blog post, we'll explore the top trends in senior living dining and discuss how providers can implement these trends to improve resident satisfaction while remaining relevant and profitable.
Healthier Options
One of the most significant trends in senior living dining is the shift toward healthier food options. As seniors become more health-conscious, they look for nutritious, flavorful meals that are low in sodium and sugar and high in fiber and protein.
To meet these demands, senior living providers are reducing processed foods and incorporating fresh fruits, vegetables (sometimes grown in their own gardens and gathered by residents), and whole grains into their meals. Culinary teams are incorporating more plant-based meals, and vegetarian and vegan options into their menus.
Senior living communities are placing a great emphasis on nutrition education and serving healthier meals to residents. Nutritional education for seniors includes practices such as mindful eating, cooking classes, and nutrition workshops. Making it easier to make healthy choices can also significantly impact nutrition for seniors. This can be achieved by switching to healthier snack options, offering right-sized portions, placing nutritious offerings in convenient locations, and preparing healthier comfort foods.
Personalized Menus
A further trend in dining in senior living communities is the shift toward personalized menus. Every senior has distinct preferences and dietary requirements. Smart providers will recognize the importance of catering to these specific needs.
To accomplish this, senior living communities will need to provide residents with menus that can be tailored to meet their dietary preferences. This could include options for specific dietary restrictions, such as gluten-free, low-sodium, or high-fiber meals, or the ability for residents to choose portion sizes and special ingredients for made-to-order dishes.
Personalized menus not only enhance the dining experience for residents but also provide a valuable sense of independence and choice. Senior care providers should use resident feedback to improve their menu offerings and confirm that they're meeting the needs and preferences of their residents.
Farm-to-Table
The farm-to-table movement has been gaining popularity in recent years, and senior living providers are no exception. By sourcing ingredients from local farms and producers, senior living communities can offer fresher and more sustainable food options.
In addition to being more environmentally friendly farm-to-table meals can enhance the dining experience for residents. Senior care communities can showcase local and seasonal ingredients in their dishes which creates a sense of community and connection with local farmers and producers.
Additionally, gardens are popping up within senior living communities. These gardens are often tended to by residents and supported by staff. Culinary teams can use the harvest to create seasonal meals with fresh, locally-sourced ingredients.
Community gardens are a way to create purpose and a sense of accomplishment among residents. These gardens grow fruits, vegetables, and herbs and offer a range of benefits to residents, including increased physical activity and access to fresh, healthy produce. Culinary teams can reap the benefits of gardening all year long with Farmshelf. Farmshelf is an approved Care Purchasing Services vendor, providing convenient and easy solutions to growing food indoors, closing the gap between farm to fork even more.
Technology Integration
Technology is being used to enhance the senior living dining experience in many ways. Senior living providers use electronic menus and ordering systems, such as touchless payment options, for convenience and to create efficiencies.
Analytics can track residents' preferences to further enhance menu offerings. Senior living providers can use this data to identify the most popular (or least popular) dishes and adjust menus accordingly.
Some communities are experimenting with robotic servers. These robots assist in bringing dishes and drinks to tables, enhancing the server-resident relationship by allowing wait staff to spend more time building relationships.
Another use of technology in senior living dining is through smart kitchens, which can make cooking and meal preparation easier for staff while also improving the dining experience for residents. For example, touchless faucets and voice-activated appliances can make cooking safer and more efficient for staff while reducing the risk of cross-contamination.
Variety of Dining Times & Offerings
Senior living communities are beginning to offer a variety of dining options throughout the day to cater to the different needs and preferences of their residents. Traditionally, senior living communities served three meals a day with set meal times. However, as the senior population becomes more diverse and individualized, there has been a shift towards more flexible and personalized dining options.
One of the most popular trends in senior living, all-day dining allows residents to eat when hungry rather than be constrained by set meal times. This flexibility is particularly important for seniors with medical conditions or medications affecting their appetite and eating schedule. All-day dining can also provide more autonomy for residents, allowing them to enjoy snacks or light meals between regular mealtimes. Visit Senior Housing News to explore this topic more.

Late-night dining is another trend that has gained popularity in senior living communities. Some seniors may have different sleep patterns and may prefer to have a small meal or snack later in the evening. Some communities even have room service at later times in the evening. Providers that offer late-night dining options can cater to these preferences, thus providing more flexibility and choice for residents.

Brunch is becoming a popular mealtime in senior living communities, allowing residents to gather with friends and family in a relaxed and casual way. Brunch can also provide more variety in the dining experience and offer different menu items than traditional breakfast or lunch options.
Offering flexible dining options can provide residents with a more customized approach to dining and create more socialization and community-building opportunities. Communities that incorporate a variety of dining options throughout the day can provide a more personalized and enjoyable experience for their residents.
Additional Dining Trends for Senior Living Communities
Pop-up Dining Experiences: A pop-up dining experience can be held in many ways. This temporary dining event can showcase chefs and the culinary team as they prepare unique, multi-course meals that are not on the regular menu. This type of dining can create a sense of excitement and exclusivity for residents.
Pop-up-style dining can also involve food truck- offerings or other mobile food services, a great way to showcase both your team's dining program and outdoor areas. Food truck style-dining is a great way to build ties with the community at large and a creative way to support local businesses.
Senior living community managers will need to consider the logistical details of bringing in food trucks, such as parking, space requirements, weather, and seating for residents. Community leaders should carefully select food truck vendors based on their resident's food preferences and dietary needs.
Global Cuisine: Part of the change in overall dining experiences includes adapting menus for a globally diverse senior population. Many senior communities are expanding their menu offerings to include international cuisine. This trend allows residents to experience new flavors while celebrating and honoring cultural diversity.
Implementing a global cuisine event can help to create a unique experience for residents and promote cultural diversity. The culinary team could partner with local restaurants in the area or do it all in-house. For example, a Taste of Mexico theme would be centered around Mexican dishes. Residents could help make themed decorations, and the kitchen could prepare and serve dishes representative of these cultures. Dietary concerns would be addressed with vegetarian and gluten-free options.
Sustainability: Sustainability and environmental practices are concepts that are top of mind across all areas for senior living providers, and dining is no different. Senior living communities are implementing sustainable practices in their dining programs, such as composting, reducing food waste, sourcing local foods, and utilizing organic ingredients.
Implementing composting can be a great way to reduce food waste and create another level of sustainability in kitchens. To implement a composting program, kitchens will need to purchase the necessary equipment such as a compost bin and starter and staff trained in what food waste is compostable.
Ways to further reduce food waste include:
Meal planning
Serving small portions
Donate excess food to food banks
Keep track of food inventory and avoid overbuying
Finally, residents can use the compost produced in their community gardens and other green spaces within the senior community. The use of nutrient-rich compost can help to improve soil quality, creating a beautiful and sustainable environment for all to enjoy.
Overall, senior living dining trends are constantly evolving to meet the changing needs and preferences of residents. Providers that stay abreast of the latest trends and implement innovative dining programs are more likely to attract new residents, retain existing ones, and provide a high-quality dining experience that enhances residents' overall quality of life.
Restaurant-Style and Niche Dining
Although this is not a new trend, restaurant-style dining is evolving in senior living communities. Senior communities can adopt the restaurant-style dining experience with table service, menus, professionally set tables with linens, and even fresh flowers. Menus may contain daily specials and other options that empower residents to make healthy decisions. This trend enhances the dining experience and makes meals more enjoyable for residents.
Another benefit of restaurant-style dining is that it provides opportunities for socialization and community-building, as residents can gather with friends and family to enjoy a meal together. Providers can also use this trend to showcase their culinary expertise to create a unique and memorable dining experience for residents.
Addressing compression dining in senior living communities can improve overall dining for residents. Compression dining is when 50-70% of residents dine in the main dining room within a short period. This compression can cause communities to have 15% higher food costs from waste and 33% higher service costs. Restaurant-style dining can help alleviate this by implanting a reservation system similar to dining out. A reservation system can reduce crowding, bottlenecks and increase service quality.
Additionally, adding alternative, niche dining such as take-out, cafes, bistros, or pub-style options can reduce crowding and give residents even more dining options. Managers can further incorporate emerging dining trends, such as beer brewing, rooftop dining, sophisticated bar and lounges to create more attractive environments for their residents. By adapting to these trends communities can add a sense of excitement and leisure among residents. Senior community managers can conduct surveys among residents to find new opportunities for unique dining experiences.
Benefits of Embracing Senior Living Dining Trends
Embracing the latest trends in senior living dining can provide numerous benefits for providers, residents, and their families. Here are some of the most significant benefits:
Improving Resident Satisfaction

By offering healthier, more personalized, and more enjoyable dining experiences, senior living providers can improve resident satisfaction and overall quality of life. Good food and a pleasant dining experience are essential components of a happy and fulfilled life, and providers that can deliver these experiences are likely to retain their residents and more easily entice new residents.

Attracting New Residents
A high-quality dining program can be a key factor in attracting new residents and setting a senior living community apart from competitors. Prospective residents and their families want to see that a community is committed to providing a quality dining experience, as this is a critical factor in their decision-making process.
Challenges and Considerations
Implementing new dining trends can present some challenges and considerations for senior living providers. Here are some things to keep in mind:
Balancing Costs with Quality

While offering high-quality food is important, senior living providers must balance costs to ensure long-term sustainability. Providers must consider the cost of ingredients, labor, and equipment when developing their menus or programs while delivering a quality dining experience for residents.

Ensuring Staff Training and Consistency

Senior living providers must ensure their staff is trained to deliver high-quality dining experiences consistently across all meal times and dining venues. Staff must be knowledgeable about the menu offerings, dietary restrictions, meal preparation, and presentation so as to deliver the best possible dining experience for residents.

Meeting Dietary Needs and Restrictions
Senior living providers must be able to cater to various dietary needs and restrictions, including allergies, intolerances, and cultural preferences. This requires careful planning and attention to detail, as well as effective communication with residents and their families.
Ready to Enhance Your Senior Living Community's Dining Experience?
Senior living dining is no longer just about providing nourishment – it's about delivering an enjoyable, personalized, and high-quality dining experience for residents.
Have questions on implementing these trends into your existing senior dining program? LCS can help your community learn how to improve dining offerings and provide a high-quality experience for your residents. Our team will provide expert guidance and support as you navigate the ever-changing landscape of senior living dining.
Subscribe to LCS Insights
Thank you for filling out our form. You may now download articles.