Trending: Resort-Style Senior Living Communities
Oct 30, 2023
Resort-style senior living communities offer a vibrant and fulfilling retirement experience with luxurious amenities, upscale services and engaging social programming. Learn more about the appeal of these communities and four considerations for developers.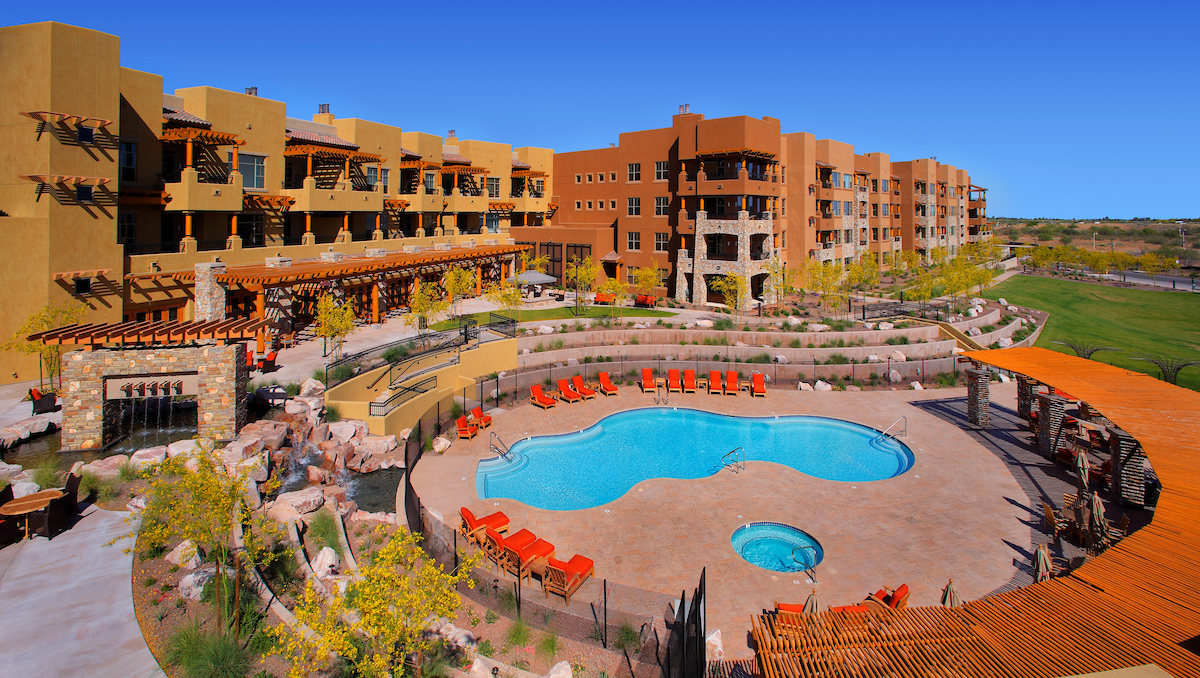 Resort-style senior living combines the sophistication and luxury of high-end resorts with supportive care offerings to promote the wellbeing of seniors. In these communities, residents enjoy amenities like elegant dining venues and rejuvenating spa facilities, all while maintaining a socially engaging lifestyle. This innovative approach to senior living has sparked interest among both seniors and developers, as it promises to cater to the evolving preferences of today's retirees while delivering a truly upscale living experience. In this blog, explore the unique benefits of developing resort-style senior living communities.
What is Resort-Style Senior Living?
Resort-style senior living communities offer an elevated experience for residents, resembling upscale resorts with an array of high-end amenities and services. These may include gourmet dining options, state-of-the-art fitness centers, intricately landscaped grounds and serene spa facilities.
The rising popularity of resort-style living can be attributed to the unique characteristics of the baby boomer generation, whose upward economic trajectory has led to a preference for high-class amenities. This demographic seeks a retirement lifestyle that aligns with their desire for a vibrant social life and access to top-notch wellness programs, alongside comprehensive healthcare services. As a result, senior living organizations are recognizing the growing demand for resort-style communities and developing these upscale options to meet the expectations of today's discerning retirees.
Why Resort-Style Senior Living
Resort-style senior living communities stand out by meeting the evolving desires of today's seniors and delivering a first-rate living environment. Below are three advantages to developing resort-style communities.
Differentiation and a Competitive Edge
In contrast to conventional senior living communities where daily routines may lean towards predictability and simplicity, resort-style communities redefine the retirement living experience. For instance, these communities may offer an assisted living experience where residents enjoy the best of both worlds – top-tier care and an exquisitely designed environment reminiscent of a high-end resort. This stark contrast sets resort-style communities apart, boosting occupancy and creating an unmatched level of resident satisfaction.
Appealing to Active Seniors
Resort-style communities have a unique advantage in appealing to active seniors due to their extensive range of amenities, from top-of-the-line fitness centers to walking paths and recreational areas. These features encourage active seniors to stay fit and pursue their favorite activities.
The vibrant social atmosphere within resort-style senior living also fosters a strong sense of community and friendship, providing opportunities for active seniors to connect, socialize and participate in group activities. Holistic wellness programs, including fitness classes and wellness workshops, prioritize the overall wellbeing of seniors and align with their active lifestyle preferences. Plus, resort-style communities often organize excursions and outings to nearby attractions and entertainment venues, catering to active seniors' thirst for exploration and adventure.
Meeting Evolving Preferences
Resort-style communities meet the evolving preferences of both today and tomorrow's seniors, positioning them as a strategic choice from a development perspective. With the baby boomer generation reaching retirement age, there is a growing demand for senior living options that align with a desire for an upscale lifestyle, engaging amenities and comprehensive wellness programs. Resort-style communities cater precisely to these evolving preferences, offering a dynamic and active retirement experience that resonates with seniors and ensures communities' long-term sustainability.
Developing Resort-Style Communities: Four Special Considerations
Creating a successful resort-style senior living community requires careful navigation of special development considerations. By understanding and incorporating these details, senior living professionals can set their community apart in the market.
Location Selection
Choice of setting plays a crucial role in defining a community's appeal and overall success. Developers must seek out serene and picturesque environments that offer an inviting backdrop for resort-style living. Accessibility of essential services, healthcare facilities and recreational opportunities is equally important to ensure residents can easily access conveniences without compromising the tranquil atmosphere.
Understanding the demographics and preferences of the target audience is also paramount in identifying the ideal location. Prospective residents of resort-style communities are likely active and socially engaged, have a desire for hassle-free living and view retirement as an opportunity to embrace an enriched lifestyle.
Upscale Amenities and Services
Resort-style living revolves around providing residents with an upscale lifestyle, akin to that of a high-end resort. Developers must carefully curate a suite of luxurious amenities that revolve around this central theme. This may include designing elegant dining venues with gourmet menus, creating fitness centers with personalized wellness programs and incorporating lushly landscaped grounds featuring gardens and recreational areas.
Sustainability and Green Initiatives
As the demand for eco-friendly living options rises, developers must incorporate environmentally responsible practices into the community's design and operations. Emphasizing sustainable construction materials, energy-efficient appliances and renewable energy sources can significantly reduce the community's carbon footprint and contribute to a greener environment. By implementing thoughtful landscaping practices, such as rainwater harvesting and native plantings, developers can create an eco-friendly haven that complements the natural surroundings while promoting biodiversity. Embracing green initiatives not only appeals to environmentally conscious seniors but also positions the resort-style community as a responsible and forward-thinking choice.
Affordability and Long-Term Viability
While resort-style living offers an array of luxurious amenities and services, it is essential to ensure that the community remains financially sustainable and accessible to a diverse demographic of seniors. Striking this balance involves meticulous financial planning and strategic pricing strategies to meet preferences while remaining competitive in the market. Developers must carefully assess construction costs, operational expenses and ongoing maintenance to determine pricing that supports the community's long-term viability. It may also be necessary to assess variables like median home price and income against proposed entrance and monthly service fees.
By offering flexible payment plans, exploring potential partnerships and optimizing operational efficiencies, developers can make resort-style living an attainable option for a broader spectrum of seniors. Ensuring affordability and long-term viability can also solidify the resort-style senior living community as a sustainable and thriving destination for years to come.
LCS Development Challenges the Status Quo
Over ten years ago, the innovative leaders at LCS Development had the idea to create a world-class senior living community to enrich the lives of older adults in Phoenix. After extensive planning and collaboration with local officials, LCS Development brought Sagewood, a resort-style community, to life. Sagewood provides a range of on-site entertainment with amenities from pickleball courts and a putting course to libraries and outdoor pools. The community's stellar location provides stunning views of the McDowell Mountains, while also offering residents convenient proximity to the city centers of Phoenix and Scottsdale.
LCS Development Leaders Listened to meet the evolving needs of seniors in the Phoenix area, combining a continuum of care with resort-style offerings to create a premier senior living experience. This is just one way that the experts at LCS Development work collaboratively with local officials and community stakeholders to identify what's next in senior living.
This blog was written with the assistance of ChatGPT.
OpenAI. (2023). ChatGPT (July 20 version) [Large language model]. https://chat.openai.com.
Subscribe to LCS Insights
Thank you for filling out our form. You may now download articles.