Unlocking Staffing Success in Senior Living: Retention Strategies that Work
Jul 7, 2023
In the competitive landscape of senior living, staffing success is crucial for providing exceptional care, but attracting and retaining talented staff members can be a challenge. Discover how to build a dedicated team that positively impacts the lives of residents and elevates your quality of care.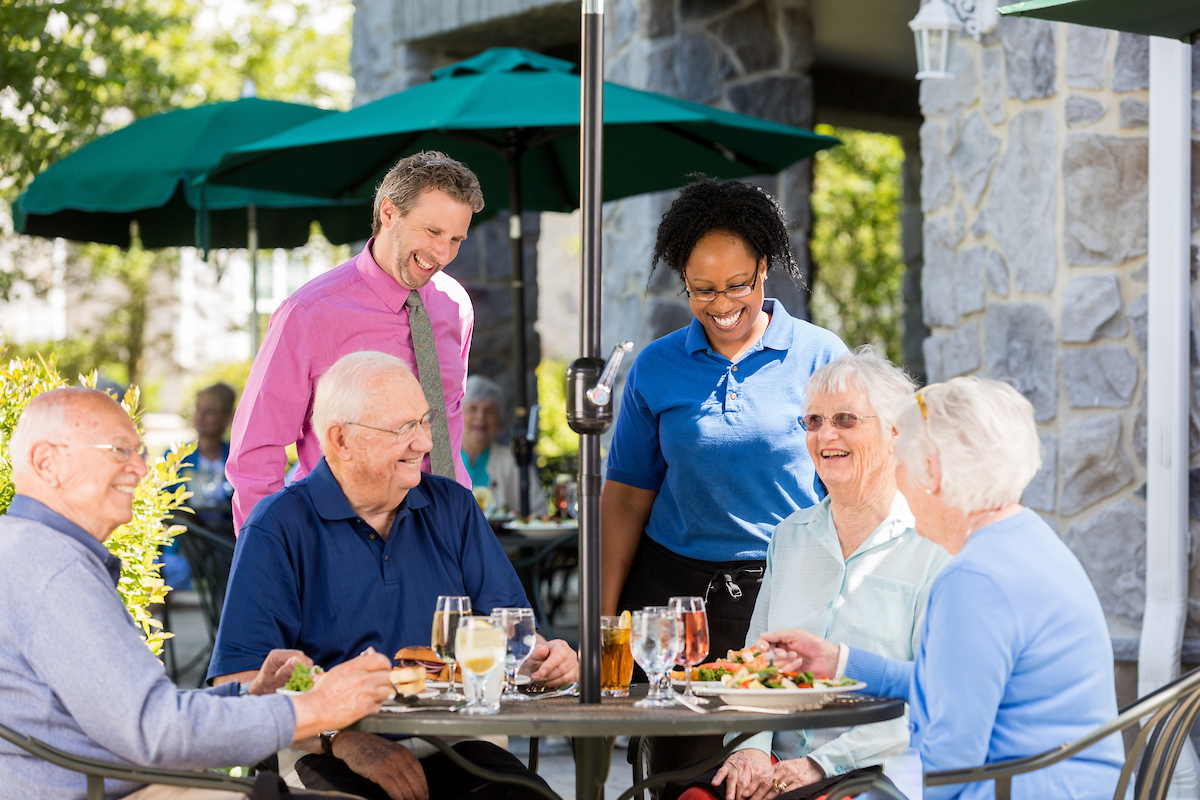 A motivated and effective staff is essential to the quality of life, safety, and wellbeing of residents. Having a strong and successful team in your community ensures not only residents' physical, emotional, and social needs are met, but also nurtures a culture where residents feel secure and supported in their home.
While maintaining a quality team of employees is essential to positively influencing resident health and wellness, staffing and retention are among the most significant challenges to senior living communities. According to The National Investment Center for Seniors Housing and Care (NIC), 69% of senior living executives surveyed in 2023 cited staff retention as a primary concern for their organization. Careers in senior living can be physically and emotionally taxing, and industry stigma can discourage new entries into the field. For these reasons, it is of the utmost importance to create a positive culture among employees in your community. This blog explores the issues of staffing and retention for senior living communities and provides six strategies to boost staff (and prospective employee) satisfaction.
Understanding the Problem: Why Staffing is a Challenge in Senior Living
High Turnover Rate
Senior living is an industry with a uniquely high turnover rate, due in part to the immense emotional investment involved in caring for residents. NIC reports that the annual turnover rate among senior living workers is approximately 85% across all positions.
High employee turnover can lead to a discontinuity of resident care and inconsistency in the quality of service throughout the community, while also impacting a resident's sense of stability. Without high quality, long-term staff, it is difficult for residents to build trusting relationships with those who work in their community.
Impact of Understaffing
While senior living operators report an optimistic outlook on staffing in 2023, understaffing has historically been a major challenge facing administrators. NIC's Fall 2022 survey of industry executives found that competition from staffing agencies and other healthcare industries have been among the most salient staffing challenges in the past year.
Understaffing can be problematic for a community by placing increased strain on existing staff members. This pressure can lead to delays in care, decreased attention to resident needs, and – in severe cases – dangers to resident safety.
Cost Implications
Understaffing and high turnover can significantly impact a community's costs. Staffing shortages often result in burnout and decreased productivity, leading to increased errors and potential liability costs. Understaffing often also necessitates hiring temporary or agency staff, which can be more expensive than maintaining a stable workforce.
High turnover rates create a need for frequent recruitment, hiring, and training processes, incurring costs related to advertising, interviewing, onboarding, and orientation. Turnover can also negatively affect resident satisfaction and occupancy, potentially impacting revenue negatively.
The root of understaffing is often a failure to retain quality staff members. Recognizing the critical role that dedicated and experienced staff play in delivering high-quality care is essential to meeting your community's staffing needs. The following section outlines effective strategies and best practices to mitigate the effects of understaffing by fostering a positive workplace culture and encouraging staff members to build fulfilling and long-term careers in senior care.
5 Retention Strategies That Work: Solving the Staffing Puzzle
Creating a Positive Work Culture
One key way for your community to promote employee engagement and retention is by fostering a supportive and positive workplace environment. Perhaps the most important way to ensure that your employees feel safe and encouraged in your community is by promoting inclusivity among your staff. This can be achieved by encouraging the formation of employee resource or affinity groups, where staff members with shared identities or interests can connect and support each other. By providing a platform for these groups, employees feel valued and find a sense of belonging within the community.
Also essential is recognizing and rewarding staff achievements. Acknowledging the hard work and dedication of employees through rewards, incentives, or public recognition boosts morale and reinforces that your community appreciates its staff members. Providing regular performance evaluations and goal-setting processes can also ensure that staff understand the expectations of their position and see a pathway for their professional progress.
Offering Competitive Compensation and Benefits
In working towards increased employee retention, it is important to offer competitive wages that align with industry standards. In addition to fair wages, providing comprehensive benefits is also paramount. Common benefits include healthcare coverage, retirement plans, and paid time off. Incentive programs and performance-based bonuses can also be highly effective in retaining staff and rewarding quality work. These programs motivate employees to strive for excellence and continue upping their quality of care and service.
Promoting Work-Life Balance and Flexibility
Work-life balance is an essential consideration in cultivating a positive work environment for your community. One approach is to offer flexible scheduling options accommodating employees' personal commitments and preferences, allowing for a better balance between their work and personal lives. Supporting employee wellbeing and mental health is also of the utmost importance. Providing resources and programs that prioritize mental health, such as counseling services or stress management workshops, demonstrates a commitment to the holistic wellbeing of your staff.
Building Strong Communication Channels
Creating strong channels of communication for your staff is an important step in ensuring employees feel comfortable sharing their ideas, concerns, and feedback. Encouraging feedback and addressing concerns promptly demonstrates that the opinions of employees are heard and valued. Additionally, implementing regular team meetings and check-ins promotes a culture of collaboration and teamwork among staff members.
It is also worth considering the use of tools such as employee instant messaging platforms or project management software to facilitate efficient, real-time communication between employees in your community.
Training and Skill Development
Instituting effective training and skill development programs are essential to the growth and success of senior living communities. Equipping employees with necessary knowledge and skills is beneficial to your community as it mitigates health risks and delivers a higher caliber of service to your residents. Quality training programs should cover essential job responsibilities, safety protocols, and best practices for interacting with residents. However, training should not end there; offering ongoing training opportunities is crucial to keep up with industry advancements.
LCS Has Strategies for Success
If understaffing and high turnover rates are diminishing your community's quality of care, Life Care Services, An LCS company, has management services to help. Namely, our experienced human resources professionals have access to a national network of candidates, and the know-how to identify high caliber talent.
Additionally, the LCS Foundation is working to develop the next generation of senior living leaders. By instituting "hands-on, early-on" professional development opportunities for high school and college students, and offering financial support through the Ed and Sue Kenny Scholarship, the LCS Foundation is proactively training the future of senior living.
Your community doesn't have to work alone in implementing effective retention strategies. Contact us to find out how LCS can lend a helping hand.
This blog was written with the assistance of ChatGPT.
OpenAI. (2023). ChatGPT (June 22 version) [Large language model]. https://chat.openai.com.
Subscribe to LCS Insights
Thank you for filling out our form. You may now download articles.