LCS

LCS Development

Life Care Services
Social Capital: Redeveloping Your Community to Build Resident Engagement
Sep 11, 2023
Understanding how to cultivate an environment prioritizing social wellness is crucial in senior living management. If the recent pandemic taught us anything it is how important social connections are for wellbeing. For residents, social connectedness in a senior living community can lead healthier and more fulfilling lives.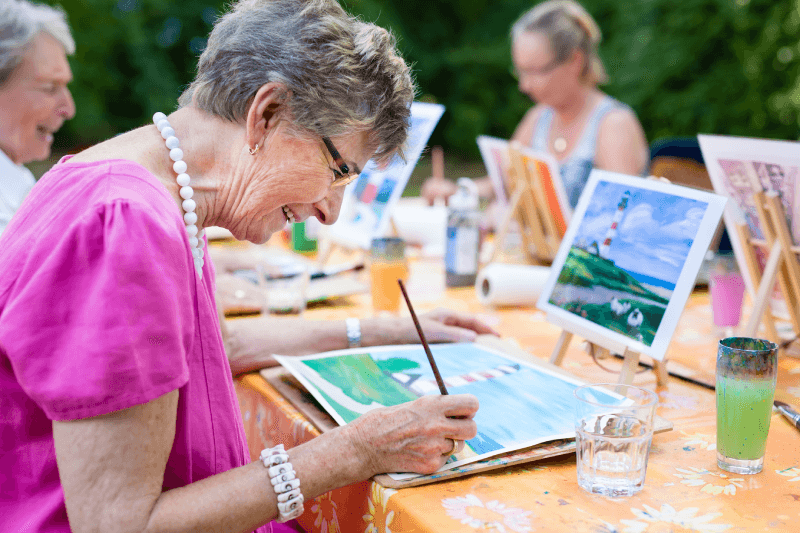 Social Wellness: Top 4 Strategies to Build Resident Engagement
Understanding how to cultivate an environment prioritizing social wellness is crucial in senior living management. If the recent pandemic taught us anything it is how important social connections are for wellbeing. For residents, social connectedness in a senior living community can lead healthier and more fulfilling lives. In this article, we'll look deeper at the importance of social wellness for seniors and how strategic redevelopment can build resident engagement within your senior living community.
Understanding Social Wellness and Why It Is Important
Social wellness is closely intertwined with the concept of social capital, a term that describes the benefits obtained from social interactions and networks. Social capital fosters cooperation and understanding and provides a sense of belonging to residents in senior living communities. Shared values and trust aid in building social capital.
Social wellness is being connected to others, the ability to interact and form meaningful relationships. Social wellness significantly impacts overall well-being, including physical and mental health. As the pandemic expertly showed, the loss of social ties can have a dire impact on psychological and physical health, especially for older adults.
However, social wellness is more than having a busy social calendar. Quality matters too. In older adults, meaningful interactions can contribute to their health and happiness. Research shows that social wellness for seniors can be vital in improving cognitive function and reducing the risk of mental health issues, including depression and anxiety. It also contributes to physical health, boosting the immune system and reducing the risk of diseases such as Alzheimer's and other forms of dementia.
Building Resident Engagement and Social Interaction
A multi-dimensional approach is the best when creating an environment that encourages social wellness, engagement, and interaction within a senior community. Residents with a greater sense of satisfaction about their community can lead to lower turnover rates, and increase occupancy rates. Key areas to look at when redeveloping a community include: strategic design of dining areas and social spaces, selection of recreational activities and amenities and accessibility features.
Sagewood is an example of a community that has embraced a multi-dimensional approach. Located in Phoenix's Desert Ridge development, this community encourages socialization through thoughtful architecture design, a 220,000-square-foot addition, 101 independent living units, activity and game rooms, diverse activities like woodworking and pickleball, an art studio, and three unique dining areas. Sagewood has challenged the status quo in senior housing. With its elevated amenities, services, and innovative design, it has built an experience that caters well to the social wellness of its residents.
Let's look at four elements that you can utilize to improve social wellness at your senior living community.
1. Dining Experiences That Promote Connection
Current trends in senior living highlight the significant role of dining in promoting social interaction. Mealtimes offer more than just physical nourishment; they allow residents to connect, share experiences, and build meaningful relationships. Creative dining initiatives like food trucks or interactive cooking classes can further stimulate engagement and conversation.
2. Spaces That Support Socialization
A community's physical layout and design can significantly impact social interactions and support social wellness. Spaces designed for accessibility encourage participation and can make it easier for residents to engage with one another. Common areas that offer comfortable and supportive seating with a higher seat height or armrests that can aid in people getting up and down can significantly benefit those with limited mobility or strength.
Gathering places, such as cafes, woodworking shops, or craft rooms, provide an environment conducive to conversation and relationship building. A place for quiet conversation, such as a library, cozy lounge, or nook, is essential for seniors who may feel overwhelmed in large spaces or crowds. All these suggestions can help reduce feelings of loneliness and isolation and create a greater sense of joy and wellbeing.
3. Intuitive Navigation and Signage
Wayfinding and accessibility go hand in hand in fostering resident engagement, particularly senior living communities that offer assisted living and memory care. Clear, intuitive navigation helps residents feel more independent and confident in exploring their environment, leading to increased social interaction. Effective wayfinding layouts can also limit anxiety or frustration for those with memory issues. This is especially important as confusion and fear often lead to social withdrawal.
4. Engaging Health and Wellness Activities
In addition to senior living dining and having welcoming open spaces, wellness and health activities are vital in promoting social engagement. Retirement home activities such as group exercise classes, gardening clubs, or art workshops can provide a platform for social interaction while contributing to residents' physical and mental well-being.
In addition to volunteering, music, art therapy, field trips, social events, all shared experiences have the capacity to build social capital for residents long after the event has occurred. By providing easy access to activities, senior living communities can further help their residents live independent and satisfying lives, build social capital, and increase overall social wellness.
From Good to Great: Enhance Your Senior Living Community Through Social Wellness
Social wellness in your senior living community will require a strategic and holistic approach. The LCS Signature Experiences can make that transition seamless for a fuller and healthier resident experience.
At LCS, we aim to deliver exceptional experiences. Contact us today if you're interested in learning more about how management or development can enhance your community's social wellness. Let's begin the transformation and work together to create environments where seniors can lead enriching, fulfilling lives. Contact us today to learn more.

Subscribe to LCS Insights
Thank you for filling out our form. You may now download articles.